KIDNEY STONES
Kidney stones, stony deposits, formed in the kidneys, usually consists of strongly concentrated urine. The presence of a kidney stone is called 'Nefrolithiasis' in medical terms.

Stones consisting of calcium oxalate are most common. Calcium phosphate and calcium carbonate stones usually occur with an infection of the urine system, as the bacteria cause the urine to become very alkaline, so that phosphates and carbonates tend to form solid crystals.
Hyperparathyroidism causes extra secretion of calcium in urine, often leading to the formation of stones.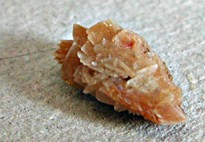 Gout results in an increased amount of uric acid in the urine and can lead to the formation of uric acid stones and urate stones. The size of the stones can vary from small crystals to stones that fill up the entire renal pelvic. The kidney stone in the illustration above is 13 mm in diameter (half an inch).
Medium sized stones get stuck easily when they move on to the bladder, especially in the urethra, which cause severe spasms and blood loss in the urine. The kidney stone in the illustration above is 13 mm in diameter (half an inch).

Especially for the treatment of kidney stones, Chinese herbal medicine has developed the formula Lysium. This formula can divide stones into smaller pieces (pulverize them as it were). Lysium can be used to prevent the development of kidney stones. The total treatment lasts for a period of approximately 3 months. The powder can be mixed with food. It can be given long term. It has no long term side effects. Lysium has no abnormal flavour.
| | | | |
| --- | --- | --- | --- |
| | Lysium™, 300 mg tablets | 90 tablets | $ 23,10 |
| | Lysium™, 300 mg tablets | 180 tablets | $ 43,90 |
| | Lysium™, 1200 mg tablets | 90 tablets | $ 34,50 |
| | Lysium™, 1200 mg tablets | 180 tablets | $ 63,50 |

TM= Trade mark

→ Dosage Lysium

Result: Within 1 - 6 months, depending on the size and number of kidney stones.

→ Product description Lysium (incl. composition)


| | | |
| --- | --- | --- |
| | | |
| 300 mg tablet | | 1200 mg tablet |